Organic skinning in 3ds Max
Organic skinning in 3ds Max
Organic skinning in 3ds Max
Organic skinning in 3ds Max
BonesPro
The ultimate tool for organic skinning in Autodesk 3ds Max!
BonesPro is a sophisticated, fast and optimized technology for organic skinning of characters and objects in Autodesk 3ds Max.
It allows you to create high quality skin meshes rapidly with easy-to-understand bone influences and vertex assignments, impressive real-time skin-deformations and special-effects.
Fast, elastic & deformable 3D skin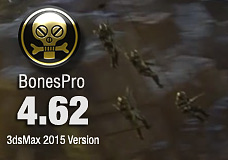 BonesPro has been updated to version 4.63, adding the following improvmeents: - Settings of the selected bones can now be copied to other bones by shift-clicking on them. - Influence visualization now shows influences when more than one bone are selected...