Organic skinning in 3ds Max
Organic skinning in 3ds Max
Organic skinning in 3ds Max
Organic skinning in 3ds Max
BonesPro
The ultimate tool for organic skinning in Autodesk 3ds Max!
BonesPro is a sophisticated, fast and optimized technology for organic skinning of characters and objects in Autodesk 3ds Max.
It allows you to create high quality skin meshes rapidly with easy-to-understand bone influences and vertex assignments, impressive real-time skin-deformations and special-effects.
Fast, elastic & deformable 3D skin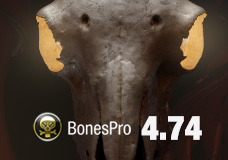 BonesPro 4.74 is ready for Autodesk's 3ds Max 2018! BonesPro has been updated for full compatibility with 3dsMax 2018. Plus, we added some improvements and fixes. Enjoy! Improvments and fixes: Full 3ds Max 2018 support! Fixed an issue where bone limit was not applied...